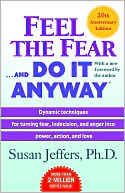 A good friend of mine handed me this book. I wasn't sure if I needed to read self-help books, but maybe I'm showing signs of a nervous breakdown. LOL
I'm on chapter five and although I don't have much time to eat, sleep or breathe these days...I've made the time to read this. It can't hurt, right? The author re-confirmed many things I have already actively done in my life..but it's still a good read and I recommend this book to those who can't overcome their fears. You just have to have an open mind while reading and it will all make sense.
I just made my goal for Heifer International... a Superagent I know :) was gracious enough to give me a rather large amount to meet my $500 goal!!!! Her kindness and generosity warmed my heart! Here's a shot out to her with much love attached!
What do I have for this week? Still writing my butt off and just focusing on ME! What is in store for me next week? Training for my half marathon in December to help the City of Hope charity! I think my legs are going to be tired!